Cat Ong Island Resort is a private island located 1 miles from Cat Ba Town. The beach here is one of the most beautiful beaches in Cat Ba Island. The sea water is so clean and emerald, …
Come to Cat Ong Island Resort you will have wonderful time staying in bungalow, enjoy the fresh air of the oceanm enjpy swimming at the private beach, do kayaking in the bay, swimming, play football, volleyball or billiard … or you can climb up to the mountain for the spectacular view of Lan Ha Bay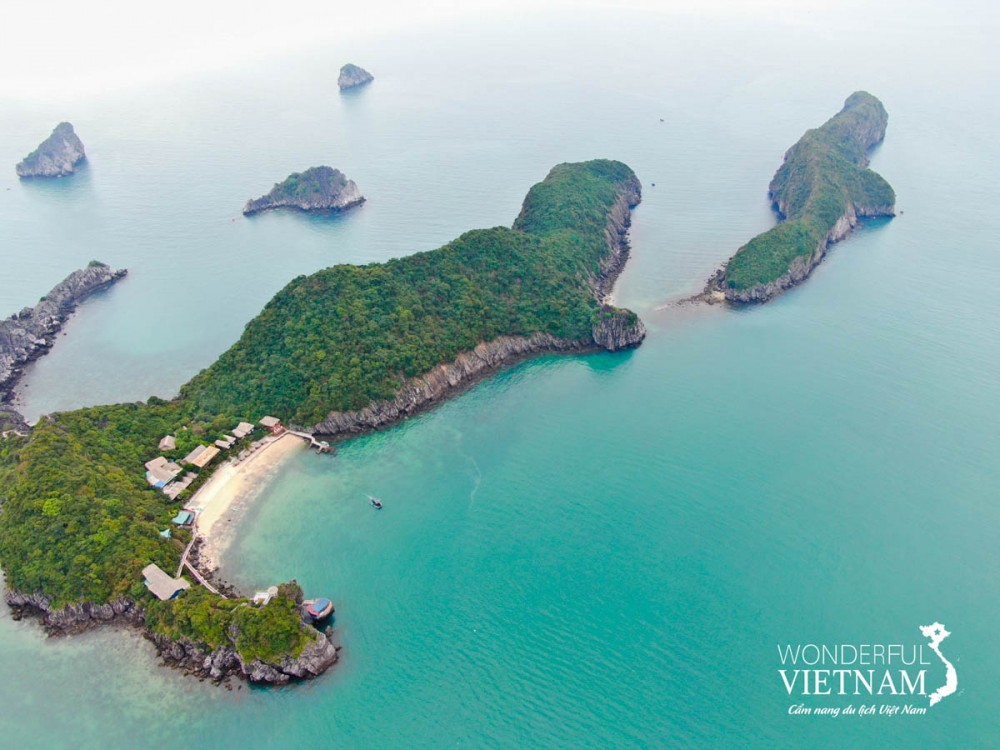 Brief your castaways

 Time & Place
Activity
Day 1
Hanoi – Halong 

---

L, D

Hanoi (07:45- 08:30AM) ⇒ Halong Bay. Surprising Cave – Titop Island – Sunset Party – Fishing

It takes about 3.5 hours to get there, enjoy lunch on cruise, Visit Surpprising Cave, hiking to the peak and swimming around Titop Island

Enjoy sunset party

Free time for squid fishing, etc

Overnight on Apricot Cruise

Day 2
Lan Ha Bay – Cat Ong Island

---

 

B, L

Tai Chi – Day and Night Cave – Lan Ha Bay – Cat Ong Island – Kayak – Free time for activities

Start your day with Taichi excercises or a photo hunt

Transfer to smaller boat to explore Day and Night Cave, Lan Ha Bay.

Discover Monkey Island: Swimming, trekking up to the mountain

Dropped off guest in Cat Ong Island Resort, check in the room and have free time on the island

Overnight on Cat Ong Island

Day 3
Halong Bay – Hanoi

---

B,L

Cat Ong Island – Cooking demontration – Hanoi (16:30 – 17:00)

Enjoy a leisurely last morning. Our tour guide will pick you up then transfer to smaller boat then get back to Apricot Cruise

Join in the Cooking Class on the Cruise

Tranfer back to Hanoi

Arrival Hanoi 16:30 – 17:00
Full Detail Schedule
SEE YOUR ITINERARY
DAY 1: Hanoi – Halong Bay – Lunch – Surprising Cave – Titop Island – Sunset Party – Dinner – Fishing (Meals: L,D)
7:45 – 8:30: Our guide will meet you at your hotel. The shuttle bus or private car pick up. Enjoy the peaceful scenery as we travel through the countryside, farmlands and Red River delta.
12:00 – 12:30: Arriving Tuan ChauMarina.Welcome aboard the cruise. Meet the captain, crew and join us for welcome drink as we tell you about life onboard.
13:00: Check into your cabin .Time to refresh and unwind.
13:30: Served a delectable lunch while cruising ahead to Ha Long Bay
Afternoon Activities
Explore the Surprising Cave – the most beautiful cave in Ha long Bay. It is one of the widest grottoes in Ha Long Bay with thousands of stalactites and stalagmites.
Visit  the Titop Island – swimming, Climbing up to the Top of the Island – take the best view of Halong Bay in the Summer time or  visit  a floating Pearl Farm Village  and learn the technique for making high quality pearls in the Winter time  .
Continue cruising to the quiet area while enjoy beautiful seascape on the way.
After that, come back to the boat, enjoy the Sunset Party on sundeck (free wine & fresh fruits).
Evening Relaxing
Dinner is served. Socialize with other guests, take part in board games, fish for squid, or just laze around.
Overnight on board: clean air – conditioned rooms with private washroom.
DAY 2: Tai chi – Breakfast – Kayaking  – lunch – Lan Ha bay –Monkey island – Dinner – Free time for activities (Meals: B, L, D)
Morning in the bay:
Start your day with Taichi exercises or a photo hunt.
07h00: Breakfast, coffee and tea and served while the boat pass some beautiful place
08h00: Do Kayaking
09h00: Transfer to smaller boat to explore Lan Ha Bay. Guided kayaking a pristine natural cave lapped by the turquoise water
Afternoon Activities:
Lunch will be served on boat.
Discover Monkey Island . You also can, swimming, trekking up to the mountain…
Return to your boat , take time to refresh and relax at Lan Ha Bay .
15:00 – 15:30: Check in Bungalow in Cat Ong island
Evening Relaxing:
Free time after to explore beach.
Dinner will be served at a bungalow
Overnight on Cat Ong Island
DAY 3: Cat Ba Island – Breakfast – Cooking demonstration – lunch – Tuanchau Marina – your hotel in Old Quarter (Meals: B, L)
Morning in the Cat Ong Island :
6:45 – 7:00: Have breakfast and check out of the bungalow/hotel , Our tour guide will pick you up at your bungalow/hotel , then transfer to smaller boat and get back to Apricot Cruise.
Continue your cruise exploring the Bay, passing Ba Hang fishing village, Dog Islet, and more…
Join in the Cooking Class , teaching you how to make our specifically ( Spring rolls ) before an early lunch is served .
11:30 – 12:00: Disembark at the harbor, Tuan Chau Marina.
16:30/17:00: Arrive Hanoi Old Quarter
WHAT'S INCLUDED ?
All accommodation, meals, transport, and selected activities.
Note: Activities vary in duration and grade depending on availability and weather.
WHAT'S NOT INCLUDED?
Drinks, travel insurance, and personal expenses.
Send Us Enquiries
Comments
comments