Sapa is one of the most ideal destinations for tourist when visit Vietnam. There 3 ways to get Sapa: get Sapa by train, get Sapa by bus, get Sapa by motobike…but the most popular way to get Sapa is by train. With 3 ways you can choose the best way to get Sapa that you like.
Get Sapa Vietnam by train
The best way for tourists to travel to Sapa – one of the most attractive destinations in Vietnam – is to travel by train, thanks to its advantage of both time and money. Departing from Hanoi station during night time, the train arrives at Lao Cai station, a city adjacent to Chinese border, in early morning and vice versa. (Starting in early 2015, travelers can also visit Sapa by taking day bus. One way travel time is approximately 6 hours).
To meet the needs of tourists, service providers have upgraded the train with full amenities such as air-conditioner, clean bathroom, and comfortable beds with different names for each type of cars. When you hear Sapaly Express or Livitrans Epxress, they are not actual trains but just different cars attached to the same train operated by national railways.
Luxury four berth cabin from Hanoi to Sapa and back
Generally, it can be divided into three types of cabins: 4-berth cabin, 6-berth cabin and soft-seat cabin. Tourist trains also run VIP cabin where the upper berths are removed, allowing for more space and privacy for just 2 people. The price per person in a 4-berth room ranges from $30 to $45 and 6-berth cabin is between $20-$25. A return ticket can also be bought right from Hanoi. Children less than five years old will not be charged any ticket fee and will share beds with their parents.
Get Sapa Vietnam by bus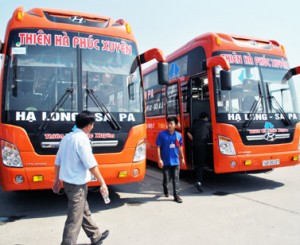 Likely train, get Sapa Vietnam by car is quite popular. Bus with berth start form My Dinh bus station, Luong Yen bus station or Gia Lam bus station…go to Sapa everyday. After 8 – 9 hours, you will stay in Sapa. The earliest car will start at 17.00 and the cost for a tickets is about 250.000 for a way.
You can hire a private car for your group. You should contact to a travel agency to hire. The cost for hire car is varitious. It depend on the kind of car what you hire.
Get Sapa Vietnam by motorcycle
Sapa can also be reached by motorcycle from Hanoi by a variety of routes. There are two main routes:
1.    Hanoi – Vinh Phuc – Viet Tri – Phong Chau – Doan Hung – Yen Bai – Lao Cai – Sa Pa ( Total: 360 km ).
2.    Hanoi – Hoa Lac – Son Tay – Thanh son – Along 32 nation road ( Total: 420 km )
Getting more information, please contact Top Travel Agent in Hanoi :  Info@kevinstravel.com